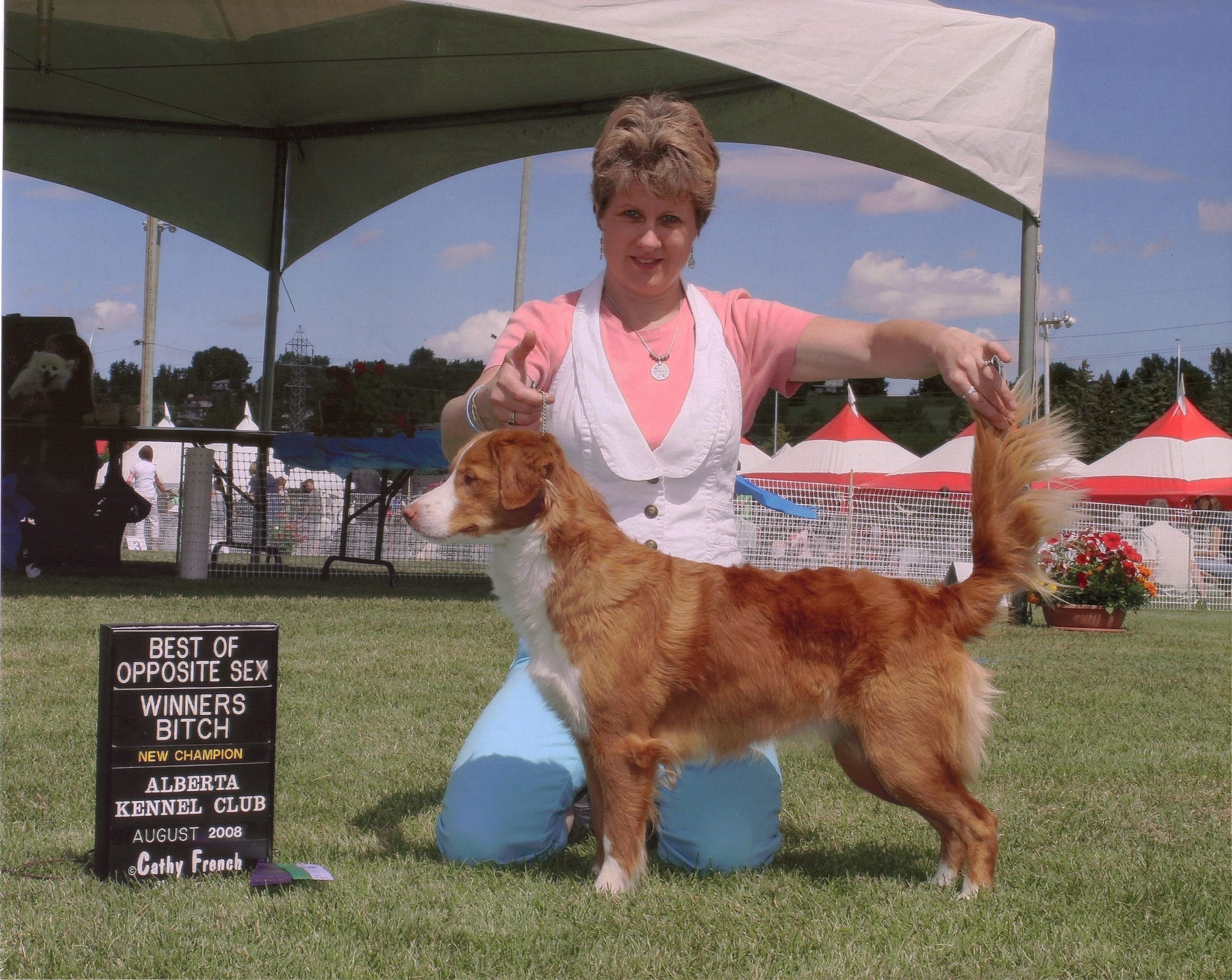 Cheryl
*Over 30 years of dog training experience
(puppy/obedience/behavior modification/agility/field/nutrition)
*Conformation show handler
*Competing in obedience, field tests, and agility
*Breeder of CKC registered & titled working/show/performance
Nova Scotia Duck Tolling Retrievers since 1997
*President of NSDTR Club of Canada 2007-2008
*Health & Genetics Registrar for NSDTR Club of Canada 1999-2009
For years I have been training, competing with and breeding high energy, working dogs and as such, I needed my dogs to be able to work hard, exercise hard and have strong healthy bodies. Good genetics, along with proper nutrition and healthcare are huge factors in keep these working show dogs in good condition, with healthy coats/skin and overall excellent health.
In 1999 I took on the volunteer position of Health & Genetics Registrar for our national dog breed club.  It was/is an eye opening experience that gave me the opportunity to talk to my counterparts in other dog clubs, trainers, vets, long-time breeders and other topnotch dog people.  I realized that there was widespread general un-health in our pets and that was a fairly recent phenomenom.
Just as we should be striving to feed our own bodies the very best food to meet our nutritional requirements, we should be ensuring that our pets get the very best in nutrition and health care. Proper nutrition is the building block to good health, well-being and a strong immune system. Many of the commercially made foods available today do not provide the basics for good health for our pets. We need to educate ourselves to know what are the best dietary choices.
While I do feel that feeding a fresh, raw diet is the very best for dogs and cats, I understand that this does not fit into the lifestyle of every pet owner. So finding "the next best thing to raw" was also important. Finding pet foods that did not contain "filler" ingredients that cause digestive upset, allergies and were totally undigestible was important. Dogs and cats do not have the ability to tolerate and digest high quantities of grains and foods like wheat, corn and soy can cause all sorts of health issues. Not to mention you are paying for ingredients from which your pet can obtain no nutritional value.
I have been providing nutritional information and assistance to the owners of our puppies for years. I am continuingly updating my information by taking nutrition courses, attending seminars, researching the latest in pet nutrition, products and health care, and I try to keep my clients as informed as I can.
Good health and proper nutrition is not only for competitive working dogs like ours. Your family pet also deserves to have its optimal dietary needs met. It can save you money at the vet and make your pet happier. In many cases it really is very easy to alleviate allergy symptoms, digestive problems, odour issues and other chronic problems with very simple dietary changes and/or supplements. And aren't our four legged friends worth it?!?!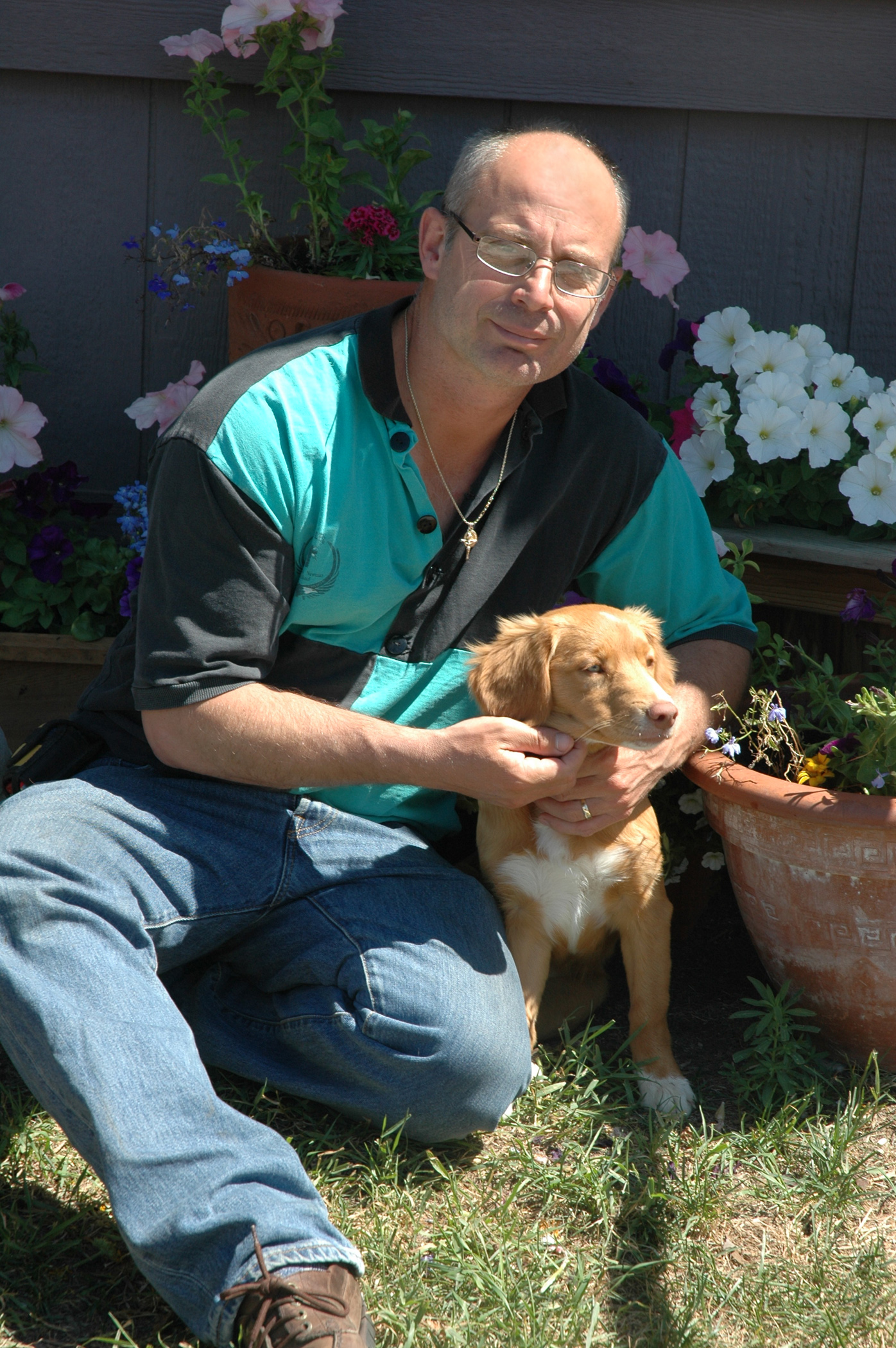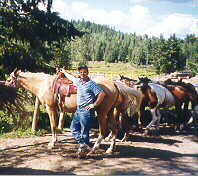 Tim
My early memories growing up are from the farms and ranches of my parents and relatives. As a young boy, kibble was a new product, not overly accepted by the general population and definitely had not penetrated the rural community. Our pets were fed a mix of table scraps and raw meat and vegetable trimmings. While I now realize that not all the foods that were consumed by these animals were appropriate, they did have a much healthier life than many of today's pets. I believe the varied and balanced diet made the difference.
When Cheryl first embarked on a program to feed a better diet to our dogs, my first question was "Why?" It was so simple to buy a big bag of dog food where my only consideration was which brand was on sale. This was also convenient as we were at the grocery store anyway so the only effort was wrestling the bag into the cart. On the other hand, feeding a healthier diet required planning and research to provide what I thought you got from any kibble.
The answer was that the ingredients in many dry food available at the time did not provide an appropriate diet for the animals. Many contained low quality proteins, inexpensive fillers and lacked the balanced nutrition for a healthy pet. We were seeing an increase in food allergies, digestive problems and general unwellness in pets that we did not see in the past.
I compared this to ranching a
nd realized that to produce healthy prized livestock, you could not feed straw and expect great results. To get the best, you had to feed the best and this generally means top quality hay and grains. The same applies to our pets. So we need to learn how to research our pet food options and make the right dietary choices.
Then came the surprise. I found feeding our animals better to be no more difficult or expensive than feeding junk. Better foods means you can feed less to achieve proper nutrition, thus balancing out the higher costs of quality ingredients. Many products can be fed frozen, come pre-packaged in a one serving size or bulk, can be re-hydrated with water or are freeze dried for better nutrient retention. Consumer education and awareness is now putting the pressure on the dog food industry to come up with more natural, wholesome forms of kibble and canned products too, using quality human grade ingredient sources. It is our goal to locate the best in kibble, canned and raw products for our customers and help them contour their pet's diet for better health.
In the end, the real winners are the pets. We aim to help others keep their pets healthy for a long and happy life.